Monday, October 3, 2022
Last Calls and Consecration
Message from Saint Michael the Archangel to Lorena on November 7-8, 2022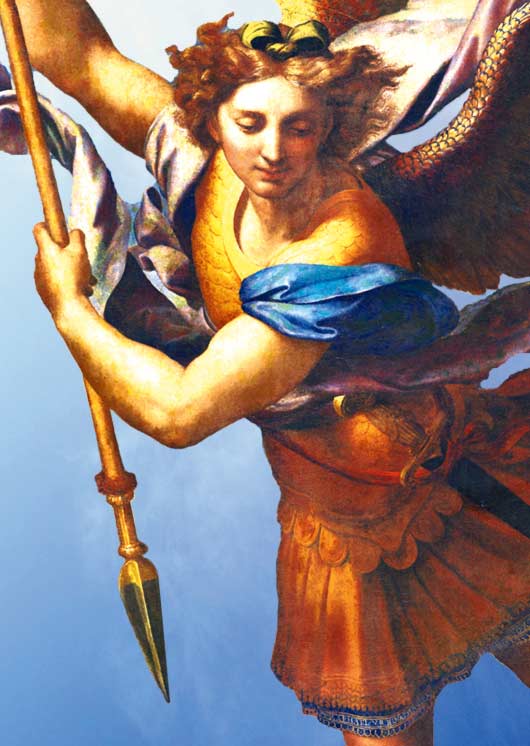 MESSAGE OF SAINT MICHAEL THE ARCHANGEL TO LORENA
SEPTEMBER 22, 2022 – LAST CALLS AND CONSECRATION
I, St. Michael the Archangel, come in the Name of ALL of Heaven, to give this IMPORTANT Message to the People of God.
The events foreseen in the Apocalypse will happen one by one without stopping and the Inhabitants of the Earth will live the Worst Tribulation, for that reason GO UP to the Ark of Salvation which is the Immaculate Heart of Mary before it is too late Consecrate yourselves and Consecrate your Families to the Immaculate Heart of Mary with all your Devotion and surrender, these are the LAST calls, the Hour in which ALL will begin is very near, therefore you need your Consecrations, remember that Heaven calls its children until the last second, therefore if you are listening to this Message DO NOT HESITATE to make your Consecrations.
The Tribulation will begin after the Last Blood Moon of this year, this Blood Moon will be the Sign of the Beginning of ALL, therefore PRAY at Hour and Hour before the Altar before the Blessed Sacrament, bend your knees and ask for Mercy and Clemency for ALL Humanity.
The Shofar that announces the beginning of the Great Tribulation is about to sound, the Inhabitants of the World, eat, drink, sing and dance, but they do NOT know that when ALL begins, there will be NO time to repent and bend their knees because the Time of Mercy will be over.
Take advantage of these Last Seconds and free yourselves from your Sins with a Good Confession of Life, there are still a few seconds left, take advantage of them to be Saved and go up to the Ark of Salvation, Heaven has called ALL its children, but as in Noah's time no one hears their calls, hurry up because the Ark is closing and the storm has begun with a few drops and it is not very evident yet, but soon Water Storms will fall and whoever is NOT Consecrated will not be safe.
These are the Last Calls Consecrate yourselves and those who are already Consecrated Renew your Consecrations, listen to my Last Call to Reconciliation with God, I call you to return to God and repent, DO NOT ignore this IMPORTANT MESSAGE, Time is running out, prepare your Souls which is the most IMPORTANT thing you have.
Courage that My Battalion, is almost ready for the Great Battle between Good and Evil, ready and at your posts, that at the Sound of the Shofar the Last Battle will begin, ready Battalion it is time to give your LAST effort, go ahead in your Preparations with the Chaplet to the Nine Angelic Choirs and the Rosary to the Most Precious Blood EVERY DAY, as well as the Fasting twice a week and the Rosary to the Virgin Mary, Reading the Bible and the Catechism of the Catholic Church that will be your compasses DO NOT be confused in the confusion that exists of erroneous and satanic ideologies.
Courage Soldiers, we are waiting for you at the Wedding of the Lamb.
Who is like God, no one is like God !!!
Chaplet of the Precious Blood of Jesus
Chaplet to St. Michael the Archangel and the nine Choirs of Angels
Note: The Last Blood Moon for this year is November 7-8, 2022.
Message from Saint Michael the Archangel on Sep. 2, 2022
Source: ➥ maryrefugeofsouls.com
Consecration to the Immaculate Heart of the blessed Virgin Mary
I ………… give myself, Mother, to Your protection and to Your guidance; I do not want to walk alone in the midst of the storm of this world.
I present myself before You, Mother of Divine love, with empty hands, but with my heart filled with love and hope in Your intercession.
I ask You to teach me to love the Most Holy Trinity with Your same Love, so as not to be indifferent to Its calls or indifferent to mankind.
Take my mind, my thoughts, my consciousness and unconsciousness, my heart, my desires, my expectations, and unify my being in the Trinitarian Will, as You did, so that Your Son's Word does not fall on arid land.
Mother, united with the Church, Mystical Body of Christ: bleeding and despised in this instant of darkness, I raise my pleading voice to You so that the discord between men and the nations be annihilated by Your Maternal Love.
SOLEMNLY I CONSECRATE TO YOU TODAY, BLESSED MOTHER, MY ENTIRE LIFE, FROM MY BIRTH. WITH FULL USE OF MY FREEDOM, I REJECT THE DEVIL AND ALL HIS MACHINATIONS AND I GIVE MYSELF TO YOUR IMMACULATE HEART. TAKE ME BY YOUR HAND FROM THIS INSTANT, AND AT THE HOUR OF MY DEATH, PRESENT ME BEFORE YOUR DIVINE SON.
Allow, Mother of Goodness, that this: my consecration be taken in the hands of the Angels to every heart so that it might be is infinitely repeated in each human being.
Amen.
Source: ➥ revelacionesmarianas.com
Prayer of Consecration of Families and Households to the Immaculate Heart of Mary
Consecrate also your children, your family and your households to My Immaculate Heart, and I, your mother, will place on a protector shield of light rays around you which will blind my adversary and his evil forces. I give you this prayer of consecration to My Immaculate Heart so that you consecrate to Me your family and household.
"O Immaculate Heart of Mary, I consecrate myself to You, and I consecrate my family, my home and everything in it, to Your Immaculate Heart. We consecrate to You our physical, psychic, biological and spiritual being, and all that we are, have and do. Protect us, dear Mother with thy light's rays that pour out from Your Immaculate Heart and hide us in Your womb. Do not allow, sweetest mother, any inhabitant of this home be lost; give us Your peace and strength in difficult times of our test. May our faith in God and trust in You, o sweetest mother, be the passport that brings us safely to the gates of new creation. Amen."
"Hail Mary most pure, conceived without sin, most blessed Mary" (3 times)